Return to Headlines
Pickerington High School North Presents Shrek The Musical
We are excited to announce that tickets for Pickerington High School North's highly anticipated fall musical, "Shrek," are now on sale! This enchanting production promises to be a spectacular event for all ages, and we invite you to join us for a magical journey through the kingdom of Far Far Away.
Event Details:
Show Title: Shrek

Performance Dates: November 16th, 17th, and 18th at 7:00 PM and November 19th at 2:00 PM

Ticket price: $15.00 per person

Location: PHSN PAC. 7800 Refugee Rd. Pickerington, Ohio 43147
Synopsis:
"Shrek" is a heartwarming and hilarious family-friendly musical that tells the story of a lovable ogre named Shrek. Living a peaceful life in his swamp, Shrek's world is turned upside down when a slew of fairytale creatures are banished to his territory by the villainous Lord Farquaad. In order to reclaim his land, Shrek strikes a deal with Farquaad to rescue Princess Fiona from a tower guarded by a fire-breathing dragon. Along the way, Shrek encounters a chatty Donkey, embarks on an unexpected adventure, and discovers the true power of friendship and acceptance. This delightful and comical tale is a journey of self-discovery, filled with memorable characters and show-stopping musical numbers, making it a perfect choice for a family outing or a memorable night at the theatre.
Tickets:
Tickets can be purchased for $15.00 each, and we encourage you to secure your seats early, as this musical is expected to be in high demand. You can purchase tickets online through our website Resources / Event Ticketing. Don't miss the opportunity to be a part of this magical adventure!
Donations:
Thank you for your continued support of the Pickerington High School North Theatre Department. We look forward to sharing this extraordinary experience with you and your family. Your continued support has been instrumental in our ability to create these wonderful productions. We are also grateful for any contributions you may consider making to ensure that our productions become a truly memorable experience for our community. Please consider donating here, Patron Ad. We hope to see you there, and please feel free to share this information.
If you have any questions or need further information, please do not hesitate to contact us at 614-830-2744.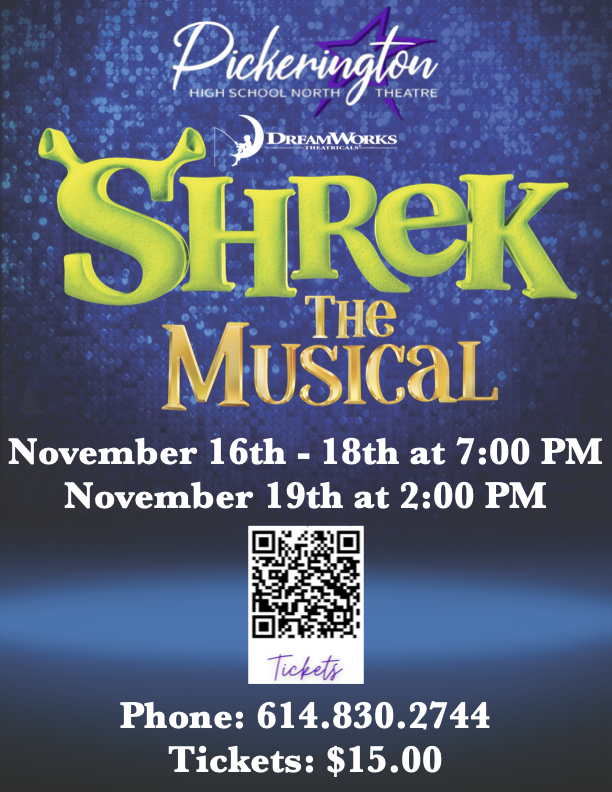 CAST LIST
Shrek - Christian Strong
Princess Fiona - Allyson Carroll
Donkey - Daisha Price
Lord Farquaad - Brandon Hudepohl
Dragon/Fiona Understudy - Kamryn Dansby
Pinocchio - Tyler Frownfelter
Teen Fiona/Ugly Duckling - Alison Snyder
Gingy/Sugar Plum Fairy - Hannah Adam
Young Fiona - Demi Music
Young Shrek - Blake DeCarlo
Papa Ogre - Roman Ortega
Mama Ogre - Kaylin Fincher
Fairytale Creatures:
Mama Bear/Dragon Understudy - Reagan Knapp
Papa Bear/Pied Piper - Roman Ortega
Baby Bear/Dwarf - Kooper Dansby
Three Blind Mice - Sophia Baker, Tiona Taylor, Olivia Painter
Three Little Pigs - Jude Meier, Jace Scarito, Emerson Bevan
Fairy Godmother - Sophia Baker
Peter Pan - James Renzi
Wicked Witch - Olivia Painter
Mad Hatter - Tiona Taylor
Humpty Dumpty - Kamaryn Reedus
Elf - Jerec Demmler
The Big Bad Wolf - Oumar Mansaray
White Rabbit - Ella Haringa
Ensemble:
Angry Mob/Happy People/Guards, Knights - Natilyn Sopraseuth, Xaniya Taylor, Ryan Hogue, Ashley Ames,
Ady Pennington, Jenna Carroll, Splendor Amoh, Lu Pickering, Gabriella Duodu, Sarah Bishop, Niya Sneed,Caitlynn Sanders, Lainey Kimball, Kyliegh Crampton
Duloc Dancers - Sophia Baker, Emerson Bevan, Jenna Carroll, Kamryn Dansby, Jerec Demmler, Gabriella Duodu,
Reagan Knapp, Oumar Mansaray, Jude Meier, Roman Ortega, Ady Pennington, Lu Pickering, Jace Scarito, NiyaSneed, Alison Snyder, Tiona Taylor
Rat Tappers - Kamryn Dansby, Reagan Knapp, Alison Snyder, Lu Pickering, Ady Pennington
Stage Manager - Ireland Eberhardt
Assistant Stage Manager - Fenet Mekonnen
Costumer - Elena Flinders